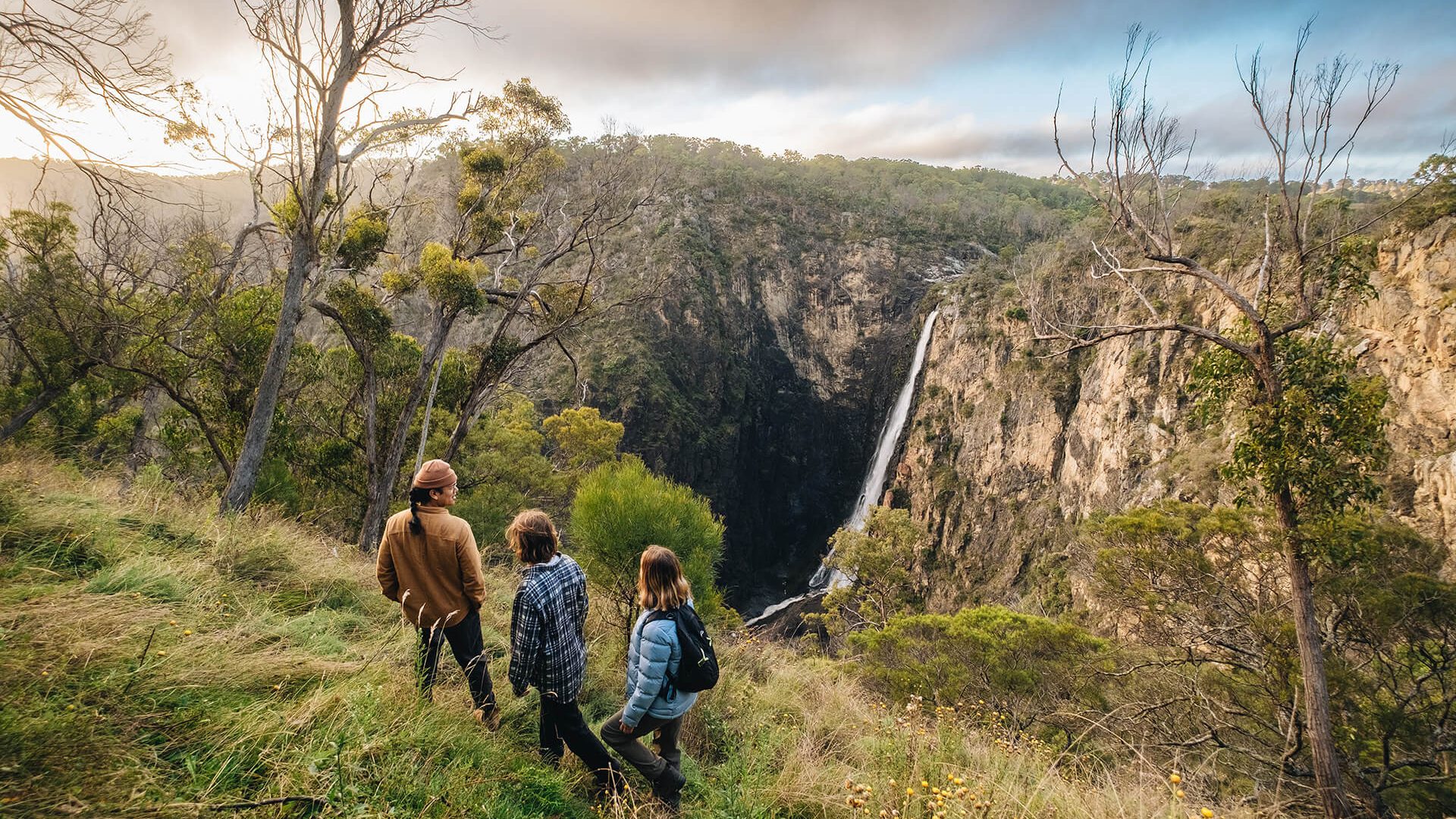 Plan your trip to
Waterfall Way
Visitor Information Centres
Armidale
82 Marsh Street,
Armidale NSW 2350
Phone 02 6770 3888
Bellingen
29-31 Hyde Street,
Bellingen NSW 2454
Phone 02 6655 1522
Dorrigo
Dorrigo Rainforest Centre
142 Dome Rd, Dorrigo Mountain NSW 2543
Phone 02 6657 5913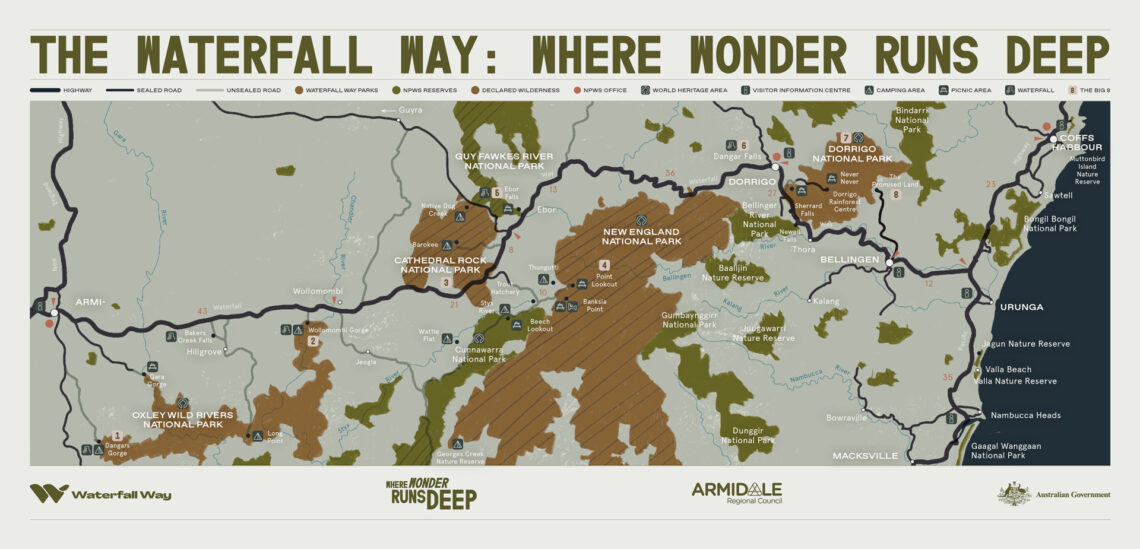 ---
Getting here by road
Situated within a day's drive or short flight from Sydney and Brisbane, getting to Armidale to explore the Waterfall Way is easier than you may think. Experience the highs as you journey through the picturesque New England High Country in northern New South Wales, full of wonder and inspiring views.
Surrounded by World Heritage national parks and filled with unique and fascinating towns rich in heritage and personality, exploring the area promises many memorable adventures. Take your time to enjoy the journey as you find your way to Armidale.
1
New England Highway
The New England Highway forms part of the major inland route connecting Sydney and Brisbane and carves its way through the spectacular New England High Country. Linking Uralla in the south to Tenterfield in the north and passing through Armidale, Guyra and Glen Innes, this scenic drive offers a variety of things to see and do, services and drive experiences for clubs.
Along this drive you'll find outstanding eateries as well as a range of breweries, wineries and distilleries. Discover unique attractions, museums and art galleries as well as an abundance of natural wonders.
To explore the New England High Country region please visit http://www.newenglandhighcountry.com.au
2
Waterfall Way
There is no hyperbole in the name of this road: travel on it and you will see waterfalls, many waterfalls. You'll also cross the dividing range from Armidale to Coffs Coast, a picturesque mountain pass with spectacular vistas and quaint towns and villages.
With 7 national parks to explore, granite boulders to climb, 1000's kms of bush-tracks to hike, and bucket loads of insta-worthy waterfalls, gorges and panoramic views, your'e going to need a couple of days just to scratch the surface.
3
Thunderbolts Way
We're not short of stunning drives in NSW, but Thunderbolts Way is among the best as it weaves over the Great Dividing Range climbing almost 1000m in altitude and provides spectacular scenery around every bend. Thunderbolts Way begins in the Mid-Coast hinterland near Barrington, this route climbs the Great Dividing Range passing through the delightful towns of Walcha then Uralla before joining the New England Highway 20km South of Armidale.
Thunderbolts Way is the perfect scenic route for anyone travelling to Armidale from Sydney, Newcastle or the Central Coast (and it takes the same time to travel to Armidale as the New England Highway)
Along this journey be sure to visit Walcha's Open Air Gallery of sculptures and artworks, the awe inspiring Apsley Falls, galleries of contemporary art and the Pioneer Cottage Museum. Further along the way, explore country charm at its finest among Uralla's cafes and country pubs, and explore McCrossins Mill Museum.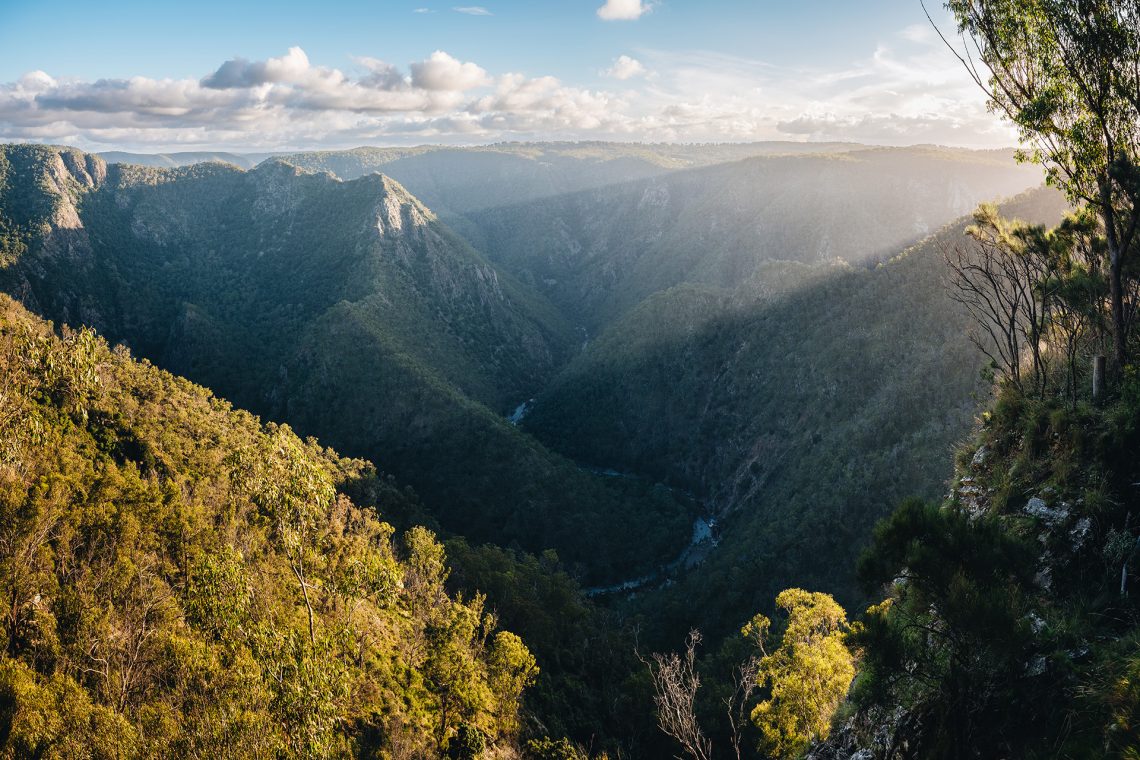 4
Oxley Highway
Beginning in Port Macquarie, this epic road tightly winds its way through the tall timbered forests of the mountains to reach the lofty tablelands of the New England where the road suddenly transforms into vast prairie-like valleys to Walcha. Along the way explore the incredible Apsley Falls and when you arrive in Walcha take a break at one of the many cafes.
From Walcha continue towards Uralla, to join the New England Highway 20km south of Armidale. A beautiful Coast to Coast loop to travel is Port Macquarie to Armidale via the Oxley Highway, and returning to Coffs Coast via the Waterfall Way.
---
Getting here by plane
Numerous flights operate each day between Sydney and Armidale. Brisbane to Armidale flights are also available. Armidale Airport is located only six minutes from the city centre.
---
Getting here by train
If you have more time on hand and want to take the scenic route to Armidale, why not take the train? Transport NSW TrainLink operates a daily service between Sydney and Armidale that takes about eight hours, while buses operate from Armidale to Guyra.